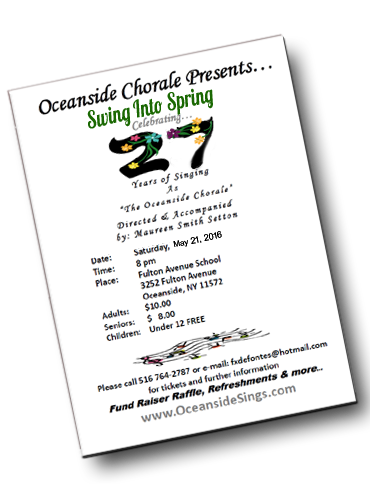 The Oceanside Chorale


Community Singing Group in Long Island NY
We invite you to attend our Spring 2016 Concert
"Swing Into Spring", to be held Saturday, May 21st
at the Fulton Avenue School in Oceanside NY.
- also known as School "8" - at 8:00 PM.

* Click for Map & Directions to Concert *

We recently celebrated 25 years of singing as "The Oceanside Chorale", giving the gift of community singing to Oceanside and surrounding Nassau County communities. Our 2014 concerts celebrated our Silver Jubilee!

In support of our community singing efforts and passion, your attendance and participation is the best gift we can receive. Participation? In our concerts, we include an audience sing-along participation arrangement in our program.There will be many carols you and your family know very well, and we will invite the audience to participate in the singing! If possible, the lyrics to our old favorites will be printed in your program for singers of all ages!

The enthusiasm with which you applauded our Holiday 2015 Concert gift of song will carry us all through to our Spring Concert in May 2016!

Rehearsals for our Spring 2016 begin January 13th on Wednesdays at 8:00 at the Merle Ave. School, 2nd Floor, in Oceanside.

Sopranos, Altos, Tenors and Basses - all are welcome!
...for info on joining us, call Frank 516-764-2787
The Oceanside Community Chorale is one of Long Island's longstanding community singing groups, providing choral performances to the public and also to schools, hospitals and other worthy organizations.

Our members come from in many different Long Island towns and we perform under the auspices of the Oceanside Department of Community Activities, and are grateful for their support over 10-plus years.

Our Musical Director, Maureen Smith Setton, President Frank DeFontes and our Music Committee gather resources each season to compose, rehearse and perform with the chorale members in concert .

Join us at our next concert!
---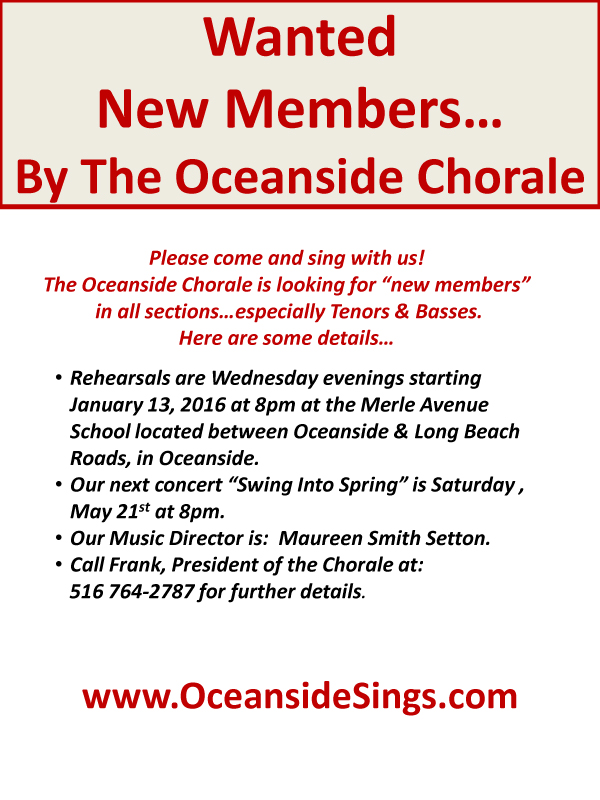 ---



Our aims are to entertain and inspire the community audiences of all ages through choral music - and to provide for the enrichment and recreation of the singers and the community members alike.

Awards and Certificates of Recognition continue to be awarded as we reach out into Oceanside & surrounding towns with our heartfelt gift of choral music.
Performances often include Broadway show music, popular songs, opera, jazz, seasonal holiday songs and even classical and latin rythms!

If you like to sing -- or if you know someone who likes to sing, please pass this message to them, "We welcome experienced and brand-new singers to visit our rehearsals, to meet us, and perhaps join us-- in a wonderful community singing experience in Oceanside!"
♫ ♫ ♫ Contact the Oceanside Chorale ♫ ♫ ♫

To arrange community performances: 516-764-2787

To visit a rehearsal: Frank@OceansideSings.com